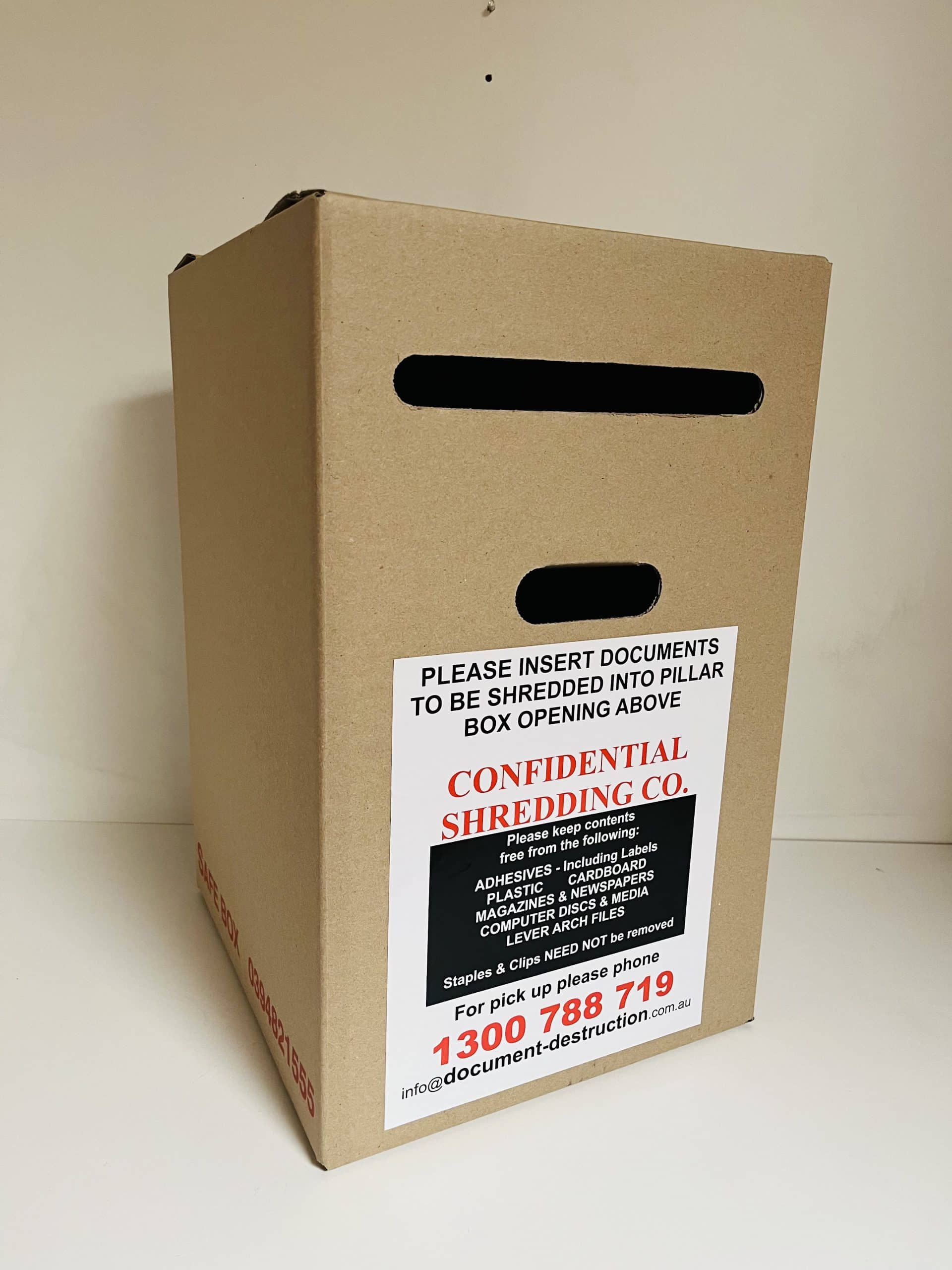 In today's digital landscape, the threat of scammers and bad actors to businesses is more prevalent than ever. These individuals or groups actively seek out vulnerabilities in businesses' security systems; their motives ranging from financial gain for ransom or espionage purposes.
Don't allow your confidential documents to become a goldmine for scammers, offering a wealth of valuable information. Protect sensitive information even after the document is no longer of use to your business or your employer's business.
At Confidential Shredding Co., we understand the urgent need for businesses to protect their confidential documents from falling into the wrong hands. That's why our Personal Under Desk Data Destruction Box is the perfect solution for this potentially devastating problem.
ORDER NOW on 1300 788 719
Personal Information Destruction Compliance
Every single person who deals with sensitive information, regardless of whether it belongs to your client, a company or personal data, is required to ensure the safe custody of private data. Safe custody is not limited to the safe storage of data but more importantly, the safe and secure disposal once the data is no longer required.
Under the Australian Government's Information Destruction And Retention Requirements:
Sometimes privacy law requires an agency or organisation that has collected personal information to destroy, delete or de-identify that information after a set period of time or in certain circumstances.
Many privacy laws require organisations to destroy or de-identify personal information when it's no longer needed. Having a convenient personal underdesk data destruction box can help ensure compliance with these laws, whether working from home or the office.
Benefits of Personal Underdesk Boxes
When it comes to protecting sensitive information, convenience and efficiency are crucial. That's why Confidential Shredding Co. offers Personal Underdesk Boxes as a solution to help ensure both privacy protection and the prevention of data breaches.
By using a personal Underdesk Data Destruction Box, staff members no longer have to leave their desks to dispose of confidential information in the usual secure wheelie bins. This saves valuable time and allows individuals to maintain control over what is being disposed of.
Not only does the under desk box provide convenience, but it also offers added security measures. At the end of a shift, the contents of the box can be emptied into a secure lockable bin or, alternatively, sealed with a security seal. This seal can be scanned, and the box and its contents can be sent directly for shredding, ensuring a secure and traceable disposal process.
Facilitating the destruction of sensitive personal information significantly reduces the risk of unauthorised access or misuse. Regularly destroying unnecessary data through this system also plays a vital role in mitigating the risk of a potential data breach and the severe consequences that can come with it.
Remember, it is important to follow your organisation's data retention and destruction policies.
Confidential Shredding Co. Provides Peace of Mind
At Confidential Shredding Co., we recognise the gravity of mishandling private information. Businesses can be shut down, and lose vast amounts of money, not to mention reputation.
That is why we offer secure document destruction services to ensure your confidential documents are disposed of properly. Don't let your documents become a liability; trust Confidential Shredding Co. to provide the peace of mind you can rely on.
Contact us today and secure your business.